Core Aeration and Overseeding
Residential and Commercial Core Aeration and Overseeding In Grand Island, Tonawanda, and Surrounding Areas
Every home and business owner desires a lush, green lawn to maximize curb appeal. If your grass is looking lackluster, thin, or patchy, rejuvenate your lawn with WNY Services LLC's aeration and overseeding services.
Core Aeration
Core aeration is an effective method of mechanically removing plugs or "cores" of soil and thatch (a layer of tough, dead grass between the grass above and the root system/soil below) from your lawn to reduce soil compaction. This helps the underlying soil to "breath" by creating openings that allow water, air, and nutrients into the soil so it can reach the grassroots. Without these three essentials, you run the risk of your grass weakening, thinning, and dying.
Why Aerate Your Lawn?
By enhancing the soil's ability to get air, water, and nutrients, core aeration is an annual service that keeps your lawn healthy, beautiful, and green. Core aeration also:
Improves fertilizer uptake
Increases nutrient absorption
Improves water drainage
Increases air circulation at roots
Helps to remove thatch
Increases spring growth
Reduces soil compaction
Combine core aeration with seeding for even better results!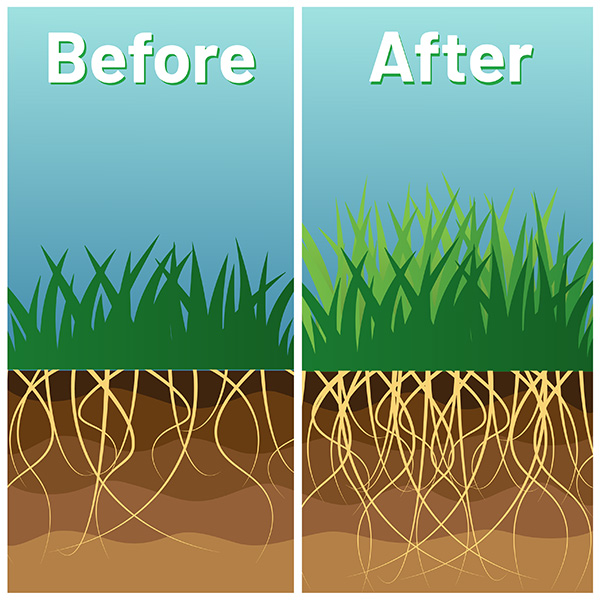 Overseeding
Overseeding can vastly improve your lawn's appearance because it:
Revives a worn, thin lawn
Fills in bare spots
Improves the overall appearance of your lawn
Crowds out weeds by thickening your lawn
Pair overseeding with core aeration for enhanced results!
Schedule Your Annual Core Aeration and Overseeding Services
Here in Western New York the ideal time of year for core aeration and overseeding is in the Fall while the soil is still warm. However, you can schedule these services bi-annually. Aim for a spring service between March and May and a fall service between August and November.
Like most things in life, your lawn will grow thicker, look better, and stay healthier if you give it a strong foundation. Core aeration is one of the best investments a home or business owner can make when it comes to routine lawn care.
Get A Quote or Call Us Today At 716-425-5577